Gingival recession occurs when the root of a tooth becomes exposed through the gum tissue. There are a number of factors that can contribute to recession including gum disease, aggressive tooth brushing, and orthodontic treatment.Gingival recession can result in sensitive teeth, damaged roots, root decay, an un-esthetic appearance, and occasionally tooth loss.
Management of gum recession today is often more conservative than in years past. In addition to the non-invasive use of gum tissue from another part of your mouth other materials can be used in some cases. The primary objectives of gingival grafting are obtaining coverage of the exposed root and improving the health of the new gum tissue to prevent future recession. An esthetically pleasing outcome is also vital to successful treatment.
Without treatment, gum recession can continue to progress making it more difficult to correct the problem. In some cases the tooth can eventually be lost.
If you have any questions regarding gingival recession, or it's treatment, please contact our office.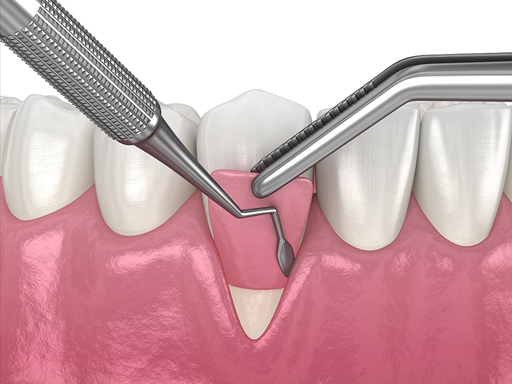 Dr. Chaston is Board Certified by the American Board of Periodontology and is a member of the American Academy of Periodontology, the Academy of Osseointegration, and the American Dental Society of Anesthesiology.